Tomorrow the fun begins. It is time to once more witness some of the worlds greatest cardslingers in action. We have collected all of the information you might need to enjoy a weekend filled with Hearthstone!
Notable Players
Seiko

Shoop

Swidz

BoarControl

JustSaiyin

Ike

Tyler

Ant

Fenomen

Seohyun628

Monsanto

Gallon

Purple

Muzzy

Glaser
Schedule
FRIDAY JUNE 1

11:15 Round 1
13:15 Round 2
15:15 Round 3
17:15 Round 4

SATURDAY JUNE 2

11:00 preshow
11:15 Round 5
13:15 Round 6
15:15 Round 7
17:15 Round 8
19:15 Round 9
21:30 RO16 – 1

SUNDAY JUNE 3

10:00 Preshow
10:15 RO8 – 1
11:30 RO8 – 2
12:45 RO8 – 3
14:00 RO8 – 4
15:15 RO4 – 1
16:30 RO4 – 2
17:45 GRAND FINAL.
Talent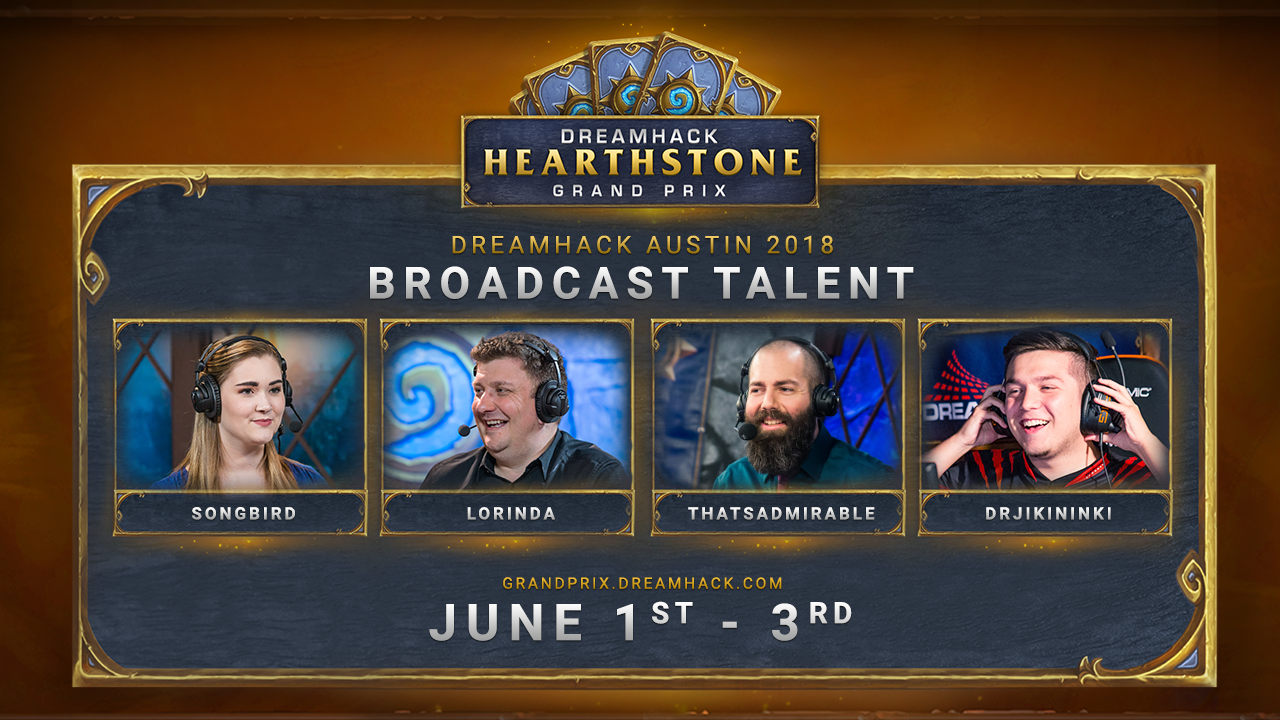 Cora "Songbird"Georgiou

Neil "Lorinda" Bond

Nathan"ThatsAdmirable" Zamora

Jace "DrJikininki" Garthright
Stream list
DreamHackHS

barcrafthl

Starladder

Armateam
WATCH & PLAY IT LIVE
You will be able to watch all the action go down live from the venue at DreamHack Austin. You can find all available tickets and pricing at the DreamHack Tours site. Otherwise you can watch it on stream here!
STAY UPDATED
If you don't want to miss out on the latest HCT Grand Prix info, make sure to follow us on our social media channels on Twitter and Facebook and to be part of the conversation use the hashtag #DHGP and #DHATX18. If you want more behind the scenes and incredible photos, check out our Instagram and Snapchat!